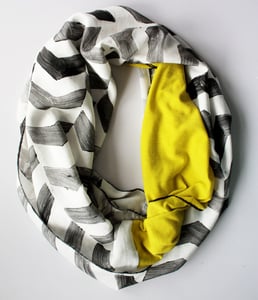 $

85.00
Chervon Snood Scarf - Hand painted Silk and Chartreuse Merino wool
This snood is made up of Hand painted Silk combined with a luxuriously soft (and limited edition) Chartreuse merino wool. The neck piece can be worn wrapped around up to three times depending if you want a long loose look or a snug layered look with the chartreuse merino peeking out from the pattern.
This piece is painted and made in Melbourne & is made to order
Made in a luxurious size of 40cm wide and 200cm long
Please allow up to one week for making prior to shipping - Once you place your order I will e-mail you with a time frame for making.
As this Item is made to order and is hand printed your item may vary slightly from the images.
If you have any questions or special requests please message me :)